Parking options
Bjørvika / Grønland / Oslo city centre
Our apartments and rooms for rent in Platous gate / Bjørvika are located just a couple of minutes away from the parking place Hollendergata / Oslo gate (parking mashine number C347). While most parking places in the Oslo city centre have a limit of two hours of parking, this is one of the few parking places in central Oslo where you can park for unlimited time.
Weekdays: Free after 17.00
Saturdays: Free after 15:00
Sundays: Free
Need an affordable place to stay near Bjørvika, Grønland, Oslo city centre? Check out our apartmens and rooms for rent.
The apartments and rooms are located on the red spot, the parking place is only a couple of minutes away by foot. You can park in the street while unloading the luggage: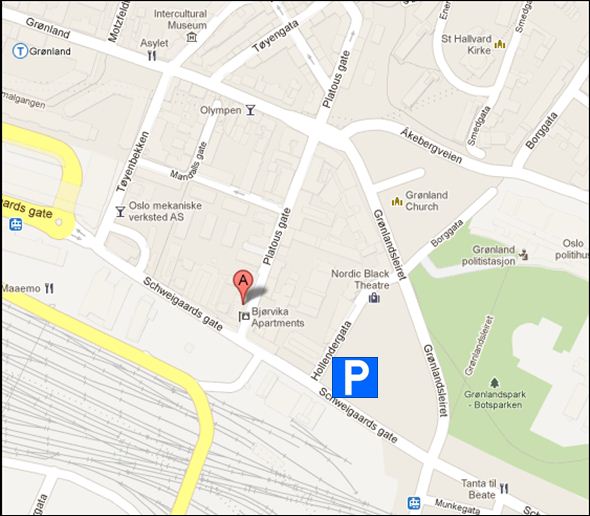 Check out our rooms and apartments for rent in Oslo and Bjørvika / Grønland area:
Rooms for rent in Oslo:
Airbnb rooms - way cheaper than hotels and motels
Roomorama rooms - cheap rooms in central Oslo
Budget room for rent - near Oslo central station
Room for rent - cheapest room in the Oslo city centre?
Stylish room for rent in central Oslo, high standard
Apartments for rent in Oslo:
Roomorama apartments - budget apartments Oslo city centre
Apartment for rent - near Munch museum / New Opera
Apartment for rent - Grunerløkka / Oslo city centre